Gameplayer is an alternative to GameGuardian for iPhone and iPad that allows us to patch and modify games to earn extra lives, immunity, and more coins.
Can you imagine being able to patch all your iPhone or iPad games? Well, that's what Gameplayer for iOS is all about, a tool that allows us to introduce all sorts of cheats through patches.
GamePlayer is a memory editor app for iOS games that allows the user to scan and modify game memory values to create their own cheats, mods and trainers for most iOS mobile games.. – Jailbreak Required. Cannot be used successfully with no jailbrake required.
Description of GamePlayer for iPhone
Can you imagine being able to patch all your iPhone or iPad games? Well, that's what Gameplayer for iOS is all about, a tool that allows us to introduce all sorts of cheats through patches.
This tool works similarly to GameGuardian for Android. If you've never heard of it before, it's an application editor that allows us to scan and modify the values in a game's memory. Well, this is the same but applied to iOS. In other words, if you're playing Subway Surfers for instance and you want to increase your number of coins to an exaggerated limit, you just have to search for the value and replace it with the number of your choice.
While not as complex as other value editors for iOS games, this game cheating tool is exceptionally well compatible with most iOS versions and devices. While some other memory editors might throw up error messages and fail to initiate, GamePlayer will work on far more devices and OS versions than not. It is also very easy to use.
GamePlayer is arguably one of the most beginner friendly game hacking apps for Apple iOS devices, as it comes with very good explanations and instructions for what to do. The app also seems to have some very basic anti-cheat bypass that may allow hacking of some more advanced games that leave some value processing to the game client. – This does not mean that hacking online games is possible, but it means that some early game builds may be tricked.
Requirements
Minimum operating system requirements: iOS 9.0.
Compatible with:
iPhone
iPad
iPod touch
Features of GamePlayer for iOS Download
Scans game values and extracts them to replace them.
Compatible with the majority of iOS versions.
Bypass anti-cheat protections.
Simple editing functions.
Exact Value Search (Dword, Word, Integer, Float, Auto Mode, Bianry)
Fuzzy search automatically if no value entered
Compatible with most iOS versions including iOS 10
Float icon for easy tabbing on and out of GP
Anti-cheat bypass options for semi-online games
Easy memory edit function, memory address storage
gets compatibility updates
game freeze options for volatile values
comes with ads, but not annoying
How to Use GamePlayer
Star GamePlayer up
Start the game you want to cheat in
In GP go to settings/menu > select application
Connect the GamePlayer App to the game you are looking to edit values in
Enter the value you would like to change and press the search button, go for auto value type if you don't know the exact data type.
Back into the game and through game mechanics, get the value to change
Back into GamePlayer and scan again for the changed value to narrow down the selection list of values
Repeat until you have <12, ideally <4 values, then change them all to 99999999
You are done. You can now experiment with entering no value at all and scanning by + increased, – decreased, = unchanged, which is called fuzzy search. This search is useful for unknown initial values, such as progress bars, health bars and so on.
Screenshots of GamePlayer for iPhone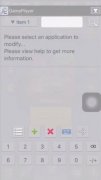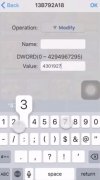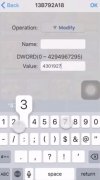 GamePlayer for iOS APK Details
| Feature | Description |
| --- | --- |
| Last Updated | 2020 |
| Author | zntx.cc |
| Size | 1.5MB |
How to Download GamePlayer for iOS
You can download GamePlayer for your iOS devices from the link below and enjoy the numerous features of the file.
Can't download from the link above, copy and paste the link below on your browser
https://bit.ly/3oPCMQe
How to Install GamePlayer for iPhone Free
Jailbreak your Device (use an old APP phone, if you have never done it)
Install the Cydia app bundle/app store for jailbroken devices
Go to Cydia > Sources > Edit > Add > enter 'http://apt.zntx.cc'
Into the new repo / search and install the latest GamePlayer version that is compatible with your iOS build.
GamePlayer may be found in other repos as well.